[Download Now] Francois – Module 2 Future Bass Track From Start To Finish
PLEASE CHECK ALL CONTENTS HERE:
Salepage_https://www.productionmusiclive.com/products/future-bass-track-from-start-to-finish
Archive: https://archive.fo/wip/VjO62
Course: Future Bass Track from Start To Finish
Start To Finish. Starting from nothing we are creating drums, sounds, fx, chords, arrangements, until we have a finished, mixed & mastered track.
Follow along the full production process. While going through all important stages of the production, everything will be explained in detail.
Pick up tricks and skills, save valuable time. Learn new techniques and apply them to your own productions right away.
Ableton Live + NI Massive. We are only using these two pieces of software.
✓ A complete start-to-finish production course, watch all tutorials at your own pace, as many times as you want and then use the techniques for your own music.
✓ 30+ Studio sessions with Francois / PML
✓ 7h+ online video sessions with lifetime-access
✓ Bonus: Ableton Project File created in this course (using Ableton Live 9 Standard + NI Massive) and all samples used are included as well.
What you you will learn from this course
After having taken this class, you'll have seen a complete production process first hand, starting from nothing and working through all the different important stages of the production process, from start to finish. The final track is inspired by artists like Flume, San Holo, Cashmere Cat, Odesza.
What song is being produced in the course?
This course will take you through: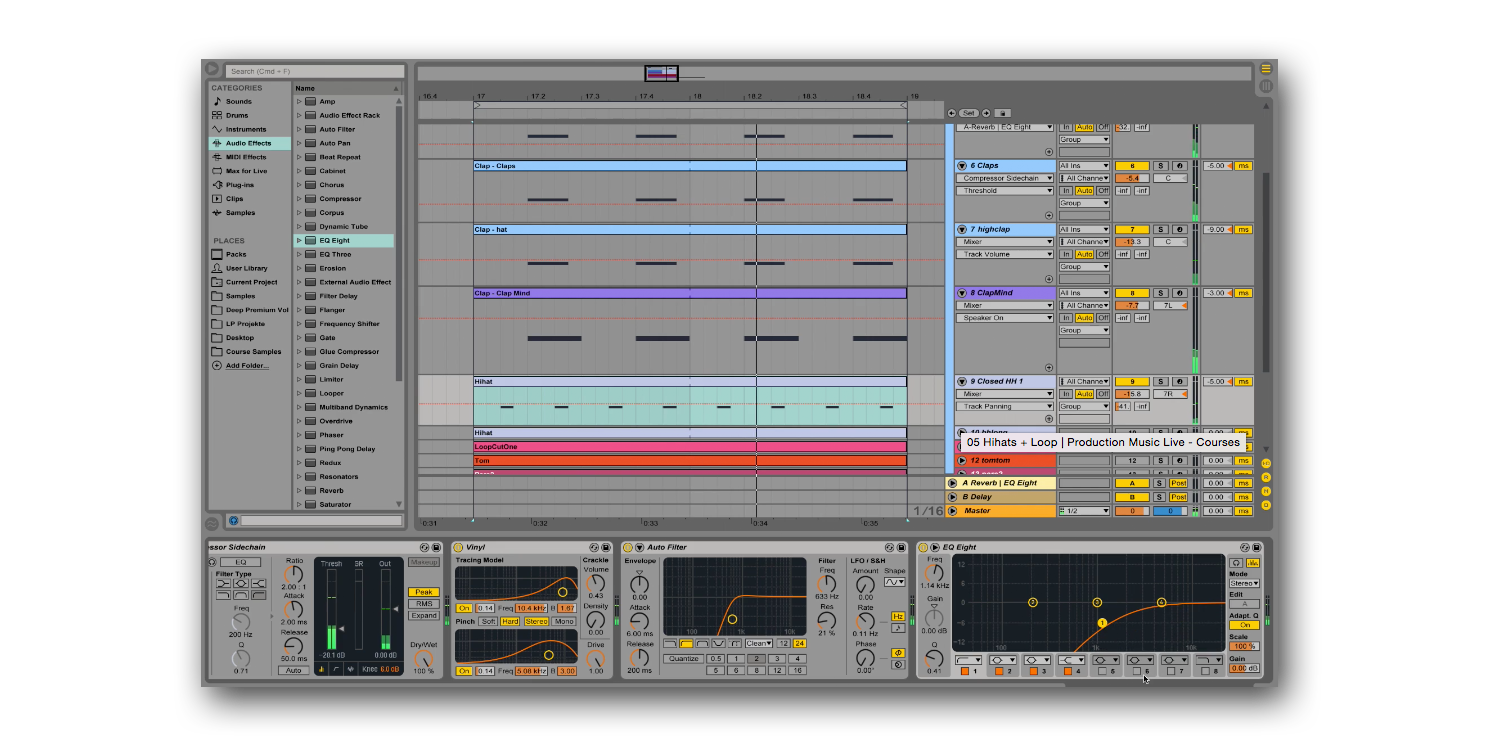 ✓ Idea generation (first in Session View, then Arrangement View)
✓ Writing Future Bass chords and advanced MIDI techniques
✓ Writing fat and powerful drums
✓ Writing melodies
✓ Sound Design
✓ Making vocal chops and glides
✓ Creating chord slides, glides, pitch effects, LFO shapes and techniques, frequency shiftings
✓ Filtering, EQing, Vibrato, Envelope shaping
✓ Layering and sound stacking
✓ Creating crazy little fills and breaks for huge drops
✓ Creating Future Bass arpeggios and melodies
✓ Adding sphere with resampling and reversing sounds
✓ Creative arrangement (from 8 Bar loop to full song)
✓ Mixing: Completely mixing the track using techniques like "Frequency Masking", Mid-Side mixing, and many more
✓ Mastering with a custom Ableton effect rack chain.
Part 1: Setup & Intro
(Free Preview) I – Introduction & Hello (1:41)
II – Downloading The Files & Setup (1:59)
III – Basic Workflow – Beginner focussed (skippable)
IV – Our Production Process in this Course (1:15)
(Free Preview) V – Playing the Final Product (2:20)
Part 2: Idea Generation – Session View
00 – Idea Generation – Part 1: Writing Chords (15:40)
01 – Idea Generation – Part 2: Creating The First 8 Bar Loop in Session View (22:58)
02 – Switching to Arrangement View & Adding Layers (20:37)
Part 3: Building The Track – Arrangement View
03 – Adding Snares (12:59)
04 – Adding Vocal Chops (15:46)
05 – Adding Fills, Warps, Stretches (17:14)
06 – Sound Design, LFOs, Arpeggios (22:57)
07 – Adding Chilled Parts, Scales (16:04)
08 – Adding Plucks (12:35)
09 – Four To The Floor Part (13:58)
10 – Creating A Big Fill FX (8:21)
11 – Sound Design: LFO E-Organ (9:49)
12 – Heavy Drop + Lead Sound (11:15)
13 – First Buildup and White Noise Edits (5:50)
14 – Adding an Intro (11:58)
15 – Creating Custom Pianos, Resampling, Reversing FX (18:05)
Quick Arrangement Basics (2:18)
16 – Transitions 1 – Frequency Shifting (7:42)
17 – Transitions 2 – Fade To Grey FX (6:53)
18 – Transitions 3 – Adjustments (6:43)