Duane and DaBen – Radiance Self-Exciting: Building Your Light Body
Salepage_https://www.orindaben.com/catalog/prodno/LB131/
Archive: https://archive.fo/wip/NLaon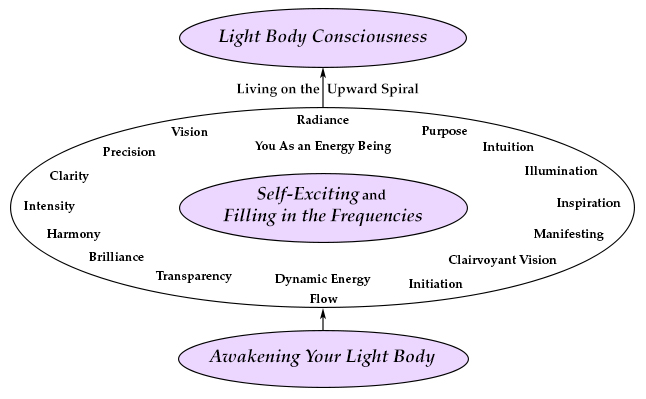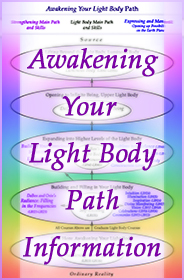 This course is taught at the Self-Exciting/ Frequencies level where you are building and filling in your light body. Click on the small color graph "Awakening Your Light Body Path Information" for a study guide that explains the light body path and how the graduate courses relate to each other. The overview chart above indicates key states of consciousness, qualities, experiences and skills for courses taught at the Self-Exciting and Frequencies level (not all states are taught in each course). For reference, it shows the levels above and below the Self-Exciting and Frequencies level of light body study.


Welcome to DaBen's Radiance: Self-Exciting course

Self-Exciting Skills Form the Foundation for Higher Levels of Light Body Experiences
Self-Exciting is a skill and a state on which many other light body skills and states of consciousness are based. If there is one graduate course to take, it would be this one as it teaches you Self-Exciting states that make it possible to have a better experience of all graduate light body courses.
The Self-Exciting skills support you in having better experiences
of the light body spaces at all levels of study.
The Self-Exciting and Frequencies skills that DaBen teaches in this course support you in having a better experience of the light body energies and spaces at all levels of study. It is the recommended next course after awakening your light body. The Self-Exciting and Frequencies skills can assist you if you have trouble staying awake, if you suddenly find yourself in ordinary reality after being in a high space, feel you are not getting anything, or if you have too much mind chatter. These skills help you surrender and open up to whatever experiences are there for you, stay in the flow, on an upward spiral, able to sustain higher spaces.
The Self-Exciting and Frequencies skills set the foundation for retaining your experience of the light body. They develop your ability to sustain and maintain your consciousness as you move into higher levels of reality. These skills can be used to both open up to higher realms and dimensions, and to bring the light, understanding, and insights you gain into your everyday reality.
Message from DaBen: What Is Self-Exciting?
DaBen: Self-Exciting is an essential skill for learning to surrender and let the light body experiences happen, where you are a part of the flow, and where you are in a stable place that allows the light body experiences to unfold more easily. In a Self-Exciting state, it is easy to be your experience and to be carried by the energies. There is no sense of self-criticism or self-judgment. You have mental fluidity—when thoughts come up, there is no emotional attachment to them; they are simply there. There is a feeling of oneness; you sense the way you fit into everything else. Self-Exciting is an essential skill to understanding energy in ways that allow you to be supported by the energies about you, where you can join the flow, and can have the experience of "everything working".
In Self-Exciting states your mind is clear and
your thoughts flow one into another without circling around.
When your energy and light become Self-Exciting, everything you do contributes to increasing your light. Each thought brings you a new idea, clarity, or greater insight into what you are thinking about. You are more creative, intuitive, and aware of your inner guidance. Your emotions are flowing, peaceful, and harmonious. Your heart is open; you have no need to protect or defend yourself because you can use all the energy around you to go higher, even if it is what you used to call "negative energy."
Being in Self-Exciting states opens the potential for you to experience having no thoughts. You discover ways to just be, allowing yourself to know your true Self beyond your thoughts and personality.
The Self-Exciting skills do not involve learning additional centers; instead you will use what you have learned to create "Self-Exciting" spaces to stay in a higher flow, and to get back into the flow more quickly.  You will learn to recognize what takes you out of your center and return easily to the flowing, peaceful states you want to experience. As you gain more skill you can experience the many subtle energies, Frequencies, and advanced skills that are included in each journey.
Self-Exciting skills help you stay in the flow,
and to be on an upward spiral.
The benefits of acquiring Self-Exciting skills will be uniquely yours. As you explore, you might experience: times of living more fully in the present moment; an enhanced ability to experience being in your flow and knowing peace and calm; an increased ability to generate emotional flow, mental fluidity, physical ease, and clarity; and continuous opportunities for joy and play.
You need to "place" your growing radiance in order to maintain the flow of light you have begun.  You can place your radiance into anything that can resonate with the energy you create. This can be people, projects you are working on, your light body or Renawre cocoon, higher beings such as Masters, guides, and the nonhuman kingdoms such as animals, plants, minerals, or the earth itself. As you grow you assist all life to grow, and you expand the light about you. ~DaBen
Note: This course in Self-Exciting touches upon the Frequencies, as they are important in creating enough light and radiance to reach and stay in self-exciting states. Studying the Frequencies will enhance your experience of Self-Exciting, and you can study the Frequencies before, during or after taking the self-exciting course.
Prerequisites: You are eligible for the Radiance: Self-Exciting–Building Your Light Body course if you have learned the 7 vibrational energy body centers and the 3 light body centers as developed by DaBen, channeled by Duane Packer.