Suzi Whitford – The Income Journey
Sale Page_https://startamomblog.teachable.com/p/income-journey-ebook
Archive: https://archive.fo/OFIEN
Month by month details of what I did to make my income grow to thousands per month and how my email list exploded to 15K email subscribers.
MY BLOG INCOME GROWTH
In one year I've been able to grow my blog from $0 to over $17,000 per month. Below you can see my blog income chart. This income came from services, affiliates and products.
I want all moms to be able to make money from home while raising a family. I want you to achieve financial freedom. I want to help you start and grow a blog without feeling overwhelmed. The Income Journey ebook dives deeply into the steps I took to make this happen.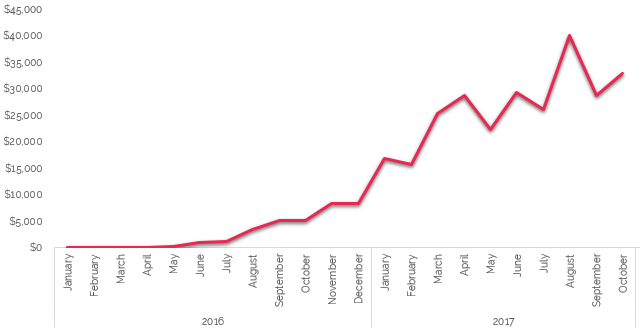 UPDATE NOVEMBER 2017
Since writing and launching this ebook, I have continued to implement the strategies I share in this ebook, and my income is now over $30,000 consistently month after month.
THE BLOG INCOME JOURNEY CONTAINS…
Make Money
Month by month breakdown of how I earned every dollar.
Traffic
How I grew my traffic every month and which posts did the best.
Time Management
The time management techniques I used to grow a successful blog while raising little children.
In the Income Journey eBook you'll get:
Everything I did in my blog's first year to grow it from $0 to over $17,000 per month.
Over 140 pages of tips, actionable advice, mistakes to avoid and methods to increase your income.
Even just implementing a few of these tips will skyrocket your income!
Course Curriculum
The Income Journey eBook
StartWelcome!
StartThe Income Journey eBook